The Only 7 Ways to Multiply Your Profits
...and the "inversion formula" for getting
the most from each of them
Here's what some of our clients say about the results we've helped them achieve:

"Using one of your formats and investing about two hours of my time, I collected $60,000 in pre-paid bookings with my first use — and I'm now well over $150,000. I've decided to NOT participate in this recession!"
Peter Ursel
Kawartha Skin Care


"Your email templates are nothing short of amazing. Personally, I didn't think it would work well on a high ticket item that's been marketed fairly heavily prior to implementing this system. To my surprise, it produced 34 NEW sales and all I had to do was pay you and push a button. Seriously, it just doesn't get any easier than that. Your system is complex in psychological structure, but easy to implement (you don't need to know all of the 'psychological buttons' being pushed, you just need to implement it as instructed). If you can follow directions, you will make more money. It's as simple as that."
Keith Baxter
Modern Click


"One simple strategy alone — that took me all of five minutes to apply — increased my day-to-day profits by a hefty 38%. Other strategies have kept my business in a continuing growth cycle, to the point where my profits have more than doubled."
Derek D'Angiolini, President
Ashland Equities, Inc.


"Your strategies and techniques increased my profits by 65% on one project, by an extraordinary 714% on a second project, and will add millions to my bottom line profits on yet a third project."
Pamela Yellen, President
Prospecting and Marketing Institute


"Not only are your campaigns fast and easy to implement, but they make good money and almost all of it goes straight to the bottom line. I had a 337% increase over my average daily sales on the days that I ran these campaigns. You write good campaigns that are customer-driven, and your team does most of the work, sending the campaigns over in word-for-word format."
David Nevogt, PurePoint Golf


"You have almost doubled my best day ever and it's only been 8 hours since I hit the send key".
Sam Snowdon, RBI


"Your product positioning advice was a godsend. I used it to increase a workshop price from $1495 to $2495 by "flipping" the copy (as you suggested). The $1000 price increase has not hampered sales in the least. That's a profit increase of at least $75,000 every time we present this workshop."
J.P. Vaughan, Editor
Creative Real Estate Online


"I wanted to say thank you for the excellent email campaign that you created for me. It performed 50% better than any campaign I've sent to my list over the past six months. I promote heavily to my list, so the fact that your campaign could achieve this in about 7 days is amazing."
Folusho Orokunle,
Online Marketing Consultant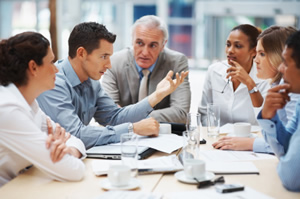 There are only 7 ways to effectively multiply your profits. Yet most businesses use no more than a couple of them. In addition, there's a simple "inversion formula" that can dramatically improve their effectiveness — resulting in you making more sales with less effort and expense.
Sound complicated? It isn't really. All it takes is understanding what these 7 proven ways to multiply your profits are and then using the "inversion formula" to apply them in the proper order.
Let's start with the 7 ways. Be sure to pay particular attention to how many you are (or are not) currently using:
Generate more traffic
Capture more leads from the traffic you get
Convert more prospects to paying customers
Increase your prices without any resistance from your customers
Increase the average dollar amount of every sale you make
Sell more often to your existing customers
Generate a steady, consistent flow of referrals
So how many of these 7 ways are you using, consistently and systematically? If you're like most businesses, the answer is no more than a couple. Which as you can see, means that you're leaving plenty of sales on the table. Sales that are ripe for the picking when you begin to employ even a few more of these 7 ways.
Plus, you can increase their effectiveness even more by "inverting" the order in which you use them. Nearly all businesses focus too heavily on getting more traffic and making the next new sale. This is a serious mistake, because it's always easier and far more profitable to make more sales to your existing customers than it is to make a new sale.
So when you shift the order and amount of resources you devote to these 7 ways, you can't help but to increase your overall sales and profits. And by focusing more on your existing customers and making each sale more profitable, you actually reduce your expenses at the same time.
We're here to help. If you'd like to start taking advantage of these additional ways to increase your sales and profits, we can help. Profit Alchemy offers fully tested marketing campaigns for all 7 ways that have proven successful many times in many different industries.
By relying on campaigns with a proven track record rather than "pioneering" new campaigns that can easily fail, you eliminate nearly all your risk and greatly increase your likelihood of success. And we'll also help you apply our "inversion formula" properly to make sure you're taking full advantage of every opportunity to maximize your profits.
Our fee structure is unique too. Except for a small retainer, you pay only for performance. So we only make money when you make money.
If you'd like to increase your sales and profits with any of these 7 proven ways, take a look at our Services page, then use the form on that page to get started today.
TERMS OF SERVICE • COPYRIGHT • PRIVACY • DISCLAIMER • ANTI-SPAM
Copyright © 2011 Profit Alchemy. All Rights Reserved.